For Contractors and Designers

Commercial and Residential Millwork
Using the latest manufacturing technology with CNC machinery, robust joinery and lean processes to custom make:
Kitchen, Bath, Closet, Modern Furniture, and Wall Panels
Who We Are
Global Cabinet Supply is the go-to destination for contractors looking for top-notch custom cabinetry options. With over 10 years in the industry, we established ourselves as Lockdowel, a leader in inventing and engineering innovative fasteners. Our expertise extends to designing and engineering cabinets and furniture for various renowned companies, including Barbosa Cabinets, Lewis Cabinet, National Office Furniture, Steelcase, and Kimball Woodworks. These industry giants, along with countless others, have tested and adopted our Lockdowel fastening system. Working closely with CEOs, manufacturing managers, engineers, and shop workers, we have collaborated to implement construction methods and manufacturing processes that result in precise, high-quality products with hidden fasteners. Our commitment to excellence and collaboration has made Lockdowel the go-to choice for reliable and efficient fastening solutions in the industry.
Founded in 2019, Smartbox by Global Cabinet Supply is proud to provide high-quality cabinetry solutions while eliminating lengthy lead times. We have revolutionized the industry by using lean manufacturing processes to offer sleek and robust custom products that are proudly made in the USA. Our primary focus is geared towards providing custom cabinetry for whole homes. Our broad customer base includes contractors, designers, architects, and business owners who rely on us for exceptional cabinetry solutions. Whether it's a residential or commercial project, our extensive capabilities enable us to handle projects of any scale. What truly sets us apart is our commitment to quality and safety. Our cabinet construction has undergone rigorous industry-standard testing, including AWI, WI, and ANSI-BIFMA testing. For added peace of mind, documentation of these tests is available upon request.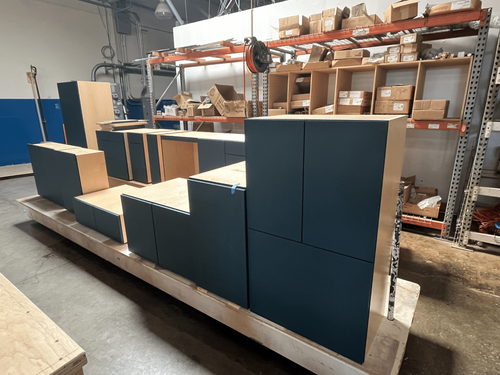 Our Facility
Global Cabinet Supply takes great pride in our state-of-the-art factory, where precision engineering and cutting are fundamental to every aspect of our operations. Our facility is equipped with advanced machinery and tools that ensure the perfect fit for each and every part we produce. We understand that quality is of utmost importance, and that's why our skilled craftsmen are dedicated to creating wood products with meticulous care and attention to detail. From the initial design stage to the final product, our team goes above and beyond to deliver exceptional results for your custom project. Whether you're looking for cabinets that fit seamlessly into a specific space or require specific design elements, our facility is equipped to handle it all. At Global Cabinet Supply, we are committed to exceeding your expectations and providing you with superior quality wood products that are tailored to your exact needs.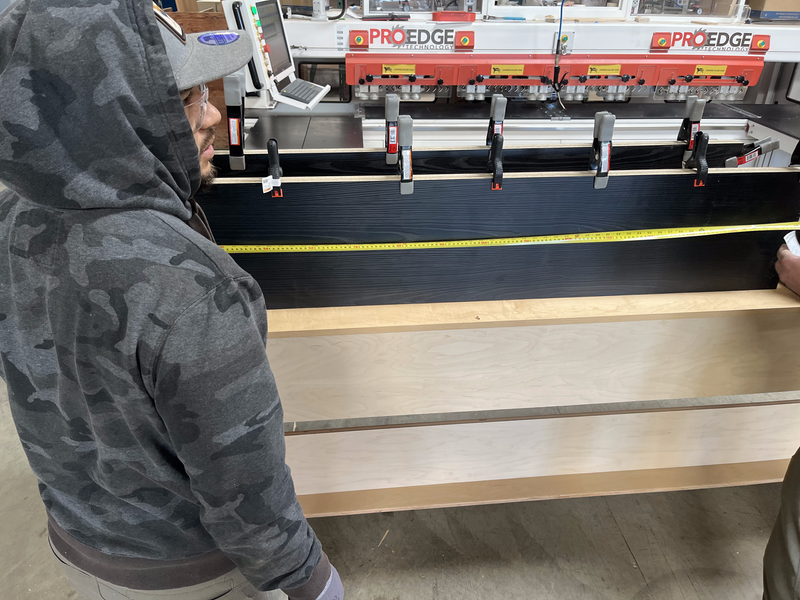 Our Process
At Global Cabinet Supply, the design and manufacturing process is a collaborative and seamless experience. It all begins with an initial meeting, where we take the time to meet, measure, and brainstorm ideas for your project. This consultation is complimentary, allowing us to understand your vision and requirements. After this, we provide you with a project quote, which is also complimentary. Once you decide to proceed, we move on to the defining and designing phase, which requires a $500 fee. However, this fee is fully refunded when you make the project deposit. During this phase, our talented designers provide you with 3D renderings of your ideas, bringing them to life before your eyes.
Once the design is finalized, the process moves on to refinement and engineering. This phase requires a fee of $1500, or a 50% deposit on the project. This fee is also refunded with the project deposit. Our designers and engineers work together to render final finishes and ensure that every detail is perfectly crafted. With your approval of the shop drawings, a 50% deposit is collected, and any design fees are refunded.
After the design and engineering phase, we move on to manufacturing and fabrication. Our skilled team utilizes advanced machinery and cutting-edge techniques to bring your design to life. Once manufacturing is complete, our installation experts ensure a seamless and professional installation in your space.
To ensure your complete satisfaction, we conduct a final walk-through and checkoff to address any remaining questions or concerns. However, our commitment doesn't end there. We schedule a return visit for final adjustments and take photos to capture the beauty of your completed project.
At Global Cabinet Supply, we prioritize your vision and strive to deliver exceptional results at every step of the process.
Shop Gallery